5 products
Product Description
Alarm Clock with Bluetooth Speaker and Wireless Charging
Enhance your living space with our Intelligent Multifunctional Alarm Clock Bluetooth Speaker Wireless Charger. This all-in-one device combines convenience, technology, and aesthetics to elevate your home decor while offering a range of useful features.
Key Features:
4 in 1 Alarm Clock:

This multifunctional device serves as an alarm clock, Bluetooth speaker, wireless charger, and atmosphere night light, making it a versatile addition to your home.

Multifunctional:

This alarm clock can meet your diverse needs with various functions. From waking up to your favourite tunes to charging your mobile devices wirelessly, it's designed to simplify your daily routine.

Bluetooth Speaker:

Enjoy high-quality audio with the built-in Bluetooth speaker. Stream your favourite music wirelessly or take calls with ease.

Timed Alarm Clock:

Set alarms to wake up or manage your schedule precisely. Never miss an important appointment or deadline again.

Mobile Wireless Charging:

Say goodbye to tangled cords. Our wireless charging feature provides fast and reliable charging for your compatible devices. You can charge your iPhone, Samsung, and other models.

Fast Charge Clock:

This intelligent clock not only keeps time but also offers fast charging capabilities, ensuring your devices are ready to go when you are.

Atmosphere Night Light Home Decor:

Create a soothing ambience in your room with the atmospheric night light feature. Set the mood and relax after a long day.
Product information:
Colour: White
Style: Universal
Applicable type of charger: Fast Charging
Packing list:
Bluetooth speaker * 1External standard SKU: CJSJ1000997
Benefits of using our Multifunctional Practical Purposes and Wireless Charger
Convenient All-in-One Device:

Simplify your life with this multifunctional device that combines several essential features into one compact unit.

Space-Saving Design:

With its sleek and compact design, this alarm clock saves valuable space on your bedside table or desk.

Enhances Home Decor:

This versatile piece serves practical purposes and adds a touch of modernity and sophistication to your home decor.

Fast and Wireless Charging Capability:

Enjoy the convenience of wireless charging with reliable and fast charging speeds, ensuring your devices are always ready for use.

Bluetooth Speaker for Music and Calls:

Immerse yourself in high-quality audio, whether playing music or taking calls. The Bluetooth speaker delivers exceptional sound quality.

Timed Alarm Clock to Manage Schedules:

Stay on top of your appointments and commitments with the timed alarm clock feature, helping you manage your time effectively.
Experience the perfect blend of technology and aesthetics with our Intelligent Multifunctional Alarm Clock Bluetooth Speaker Wireless Charger. Elevate your home decor while enjoying the convenience and functionality of this innovative device. It's a must-have addition to any modern living space and is suitable for home decor lovers, busy professionals, tech enthusiasts, and students alike.
Size:
Product Image: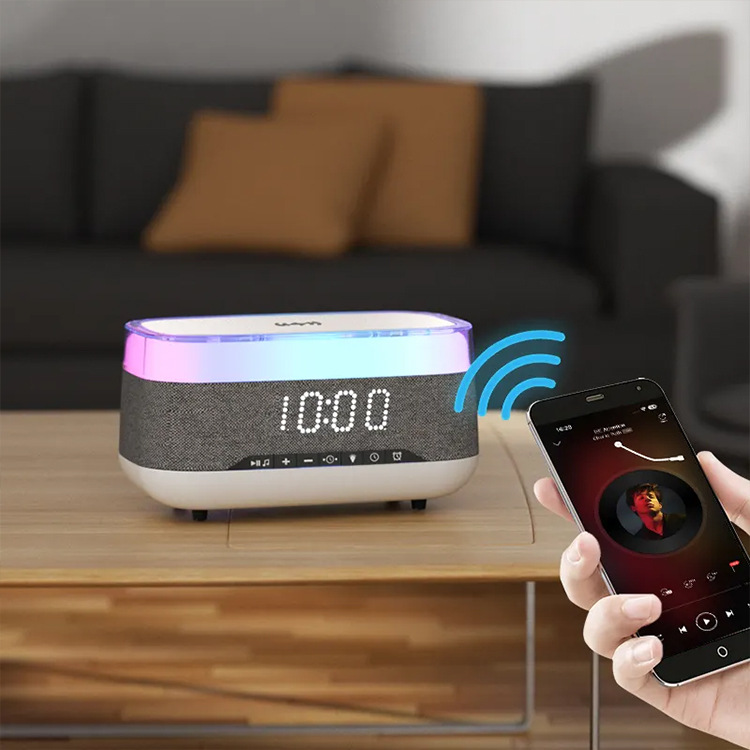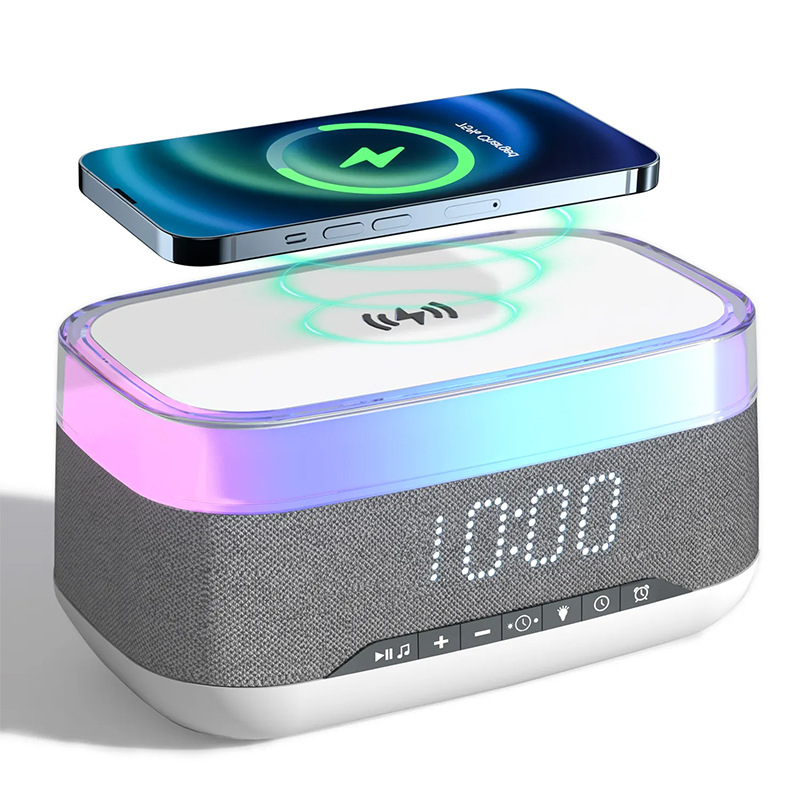 Product Description
Get rid of the tangle of wires by your bedside table with this fantastic 2-in-1 alarm clock and charger. This sleek gadget features an LED display with time and temperature, as well as a sleek minimal design.
Wireless Charging: This Multipurpose alarm clock supports most universal Wireless Charging cellphone models, 10W Qi-Certified Wireless Charging Pad, and other Qi-Enabled cellphones. It provides convenience for you to place and charge your phone at the same time.
Several Alarm Settings: You can set this digital alarm clock for the bedroom, meetings, travel, homework, or everyday alarm. It's convenient for you and your family.
LED Large Display: The LED charging alarm clock will show you the time(12/24hrs), date, and temperature(°C/ °F) directly. With a temperature sensor, it can monitor the temperature in the kid's room, bedroom, or living room. 
Mirror Alarm Clock: The LED display can turn off with power-saving mode when you're going to sleep, it will look like a mirror. It is designed to humanize enough that it won't disturb your sleep. Turn on/off the power-saving function by pressing the "Down" button. (On with display ONSd and Off shows Sd).
Stylish Design for Decor: This must be the most delicate compact alarm clock you've ever seen. It's not only a clock but also a great decoration for your bedroom. Its stylish appearance and multiple functions make it suitable as a gift.
Specifications:
Material: ABS
Output: 5V 1A
Input: 5V 1.5A
Function: Alarm Clock, Time/Temperature Display
Dimensions: 160x75x40mm
Product Description
Wireless Charging Pad
The modern and compact minimalist design provides the ideal quality wireless charger that blends in with your environment as the faster charging solution 


Vertical and horizontal charging 

Featured with a stand design for ergonomic comfort viewing, stuff cool WC310 wireless charger charges your phones both vertically and horizontally at the perfect angle for your eyes. 



Smart LED indicator

The LED indicator works with different colors when different actions like foreign object detection, battery full status, connection to the charger, and so on. The LED indicator flashes blue-green in case the device is not placed properly and compatible with all qi-enabled devices


Case friendly 

Designed with two High-purity copper coils, it can wireless charge your device even with a case on. Please note, that the case must be wireless charging compatible and should not exceed a thickness of 6mm.


Specifications:
Color: Metal Black/White
Input: 30W
Output : 5W/7.5W/10W/15W
Charge efficiency: gt;75%
Charging frequency: 110 - 205 KHz

Package Included:
1*Fast Wireless Charger

1*Micro USB Cable
Product Description
The Ultimate Apple Lovers Charger.
For iPhone, AirPods, and Apple Watch.
The 3-in-1 Wireless Charger is designed to charge all your favorite Apple items at one central location. Just put your iPhone, AirPods, and Apple Watch on the charger and your devices will start charging. Faster than any other wireless charger ever made. Complete your Apple device collection with the 3-in-1 Wireless Charger.
WHY IS IT PERFECT FOR YOU?
No more annoying wires.

4x faster charging than any other wireless charger.
Never forget where you've left all your most valuable items.
Pro-grip, anti-slip material.
Case friendly: simply leave the case on your phone.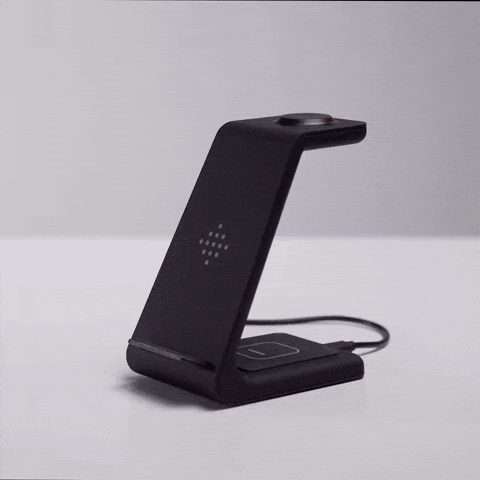 Specification:
Features: 

With Charging Indicator, With Cable, With LED Light




Connector Type: 

Type C

Max. Output Power: 

10W




Output: 

10W




Suitable Device 1: 

For iPhone 8/X/XS/XR/11/11 Pro

Suitable Device 2: 

For Apple Watch 5/4/3/2

Suitable Device 3: 

For Airpods 2 Airpods Pro
Product Description
2 IN 1 WIRELESS CHARGER- 2 in 1 magnetic wireless charger conveniently charges your compatible iPhone, iWatch, and wireless charging case for AirPods.The foldable dual magnetic wireless charger station can charge two devices at the same time. 15W charging modes for iPhone 12/ 12 Mini/ 12 Pro/ 12 Pro Max. 7.5W charging modes for iPhone 11/11 Pro/ 11 Pro Max/X/XR.The 5W charging modes for Airpods Pro/Airpods Pro 2/Apple Watch 6/SE/5/4/3/2/1.
SAFE CHARGING
- Compatible with a MagSafe wireless charger with a built-in magnetic circle for the iPhone12 series, magnetic adsorption can induction and make iPhone tightly fit wireless charger, offering stable charging.No need to take off phone case while charging. [Need to put the phone in the center of the wireless charger].15W fast dual wireless charger has a multi-functional intelligent chip to protect the phone from overcharging, over-current, and short circuits, ensuring safe charging.
FOLDABLE & PORTABLE- Dual magnetic wireless charging pad folds together neatly and easily take it with you wherever you go. 15W wireless charger supports vertically or horizontally wireless charging, which will not hinder you from playing games, watching videos, video chatting, or daily charging. Airpod and iWatch can be charged with one plug, this 2-in-1 wireless charger is compatible with MagSafe make you can save time since you don't need to change connectors frequently.
Specification:  

Input parameter

 

:9 (V)
Output parameter

 

:9 (V)
Type:

 

Wireless Charge
Charging current

 

:1200 (mA)
Indicator function:

 

Indicator function
Interface:

 

Micro USB
Package: