9 products
Product Description
Overview:
It has the function of flame lamp-/clock display/alarm clock/timed. Humidifier can also be worked as an Aroma Machine/Night Light.
Add a few drops of your favorite oil to relieve fatigue and relaxation, while also improving air quality and keeping away from dryness.
The mist and light functions of this diffuser work separately. You can turn off the light at night while sleeping. Or use this diffuser as a nightlight.
Our flame design- is perfect for any decor. It is great to fit for the bedroom, office and everywhere you want to put it.
It is the perfect gift for your family or friend.

Product information :
Material: ABS+PP
Water tank capacity: 180mL
Color: white
Power supply: USB
Function: aromatherapy
Applicable area: less than 10m2
Shape: round
Noise: less than 36dB
Timing function: 2-8 hours
Water tank capacity: 0.5L and below


Size Information:
Dimensions: 192*89*112mm


Packing list:
Aromatherapy machine *1
Color box *1
Instructions * 1
Charging line * 1
Product Description
Overview:
4-in-1 multi-purpose: the soft brush surface is made of flannel, which can penetrate into every gap in the screen mesh. It can also be used as a cotton brush to remove dust and hair on clothes, sofas, carpet beds, etc. It can be dried for light dust removal and maintenance cleaning, or it can be wetted for thorough cleaning,  It can be dry for mild dust removal and maintenance cleaning, or wet for thorough cleaning
Wet and dry dual purpose: Multi-functional dust brush cleaner has both dry and wet functions, customers can choose according to actual needs. Dry use can be used to clean the screen and fluff, for dust removal and maintenance cleaning. It can also get brush wet, treat windows and tiles, improve dust removal efficiency, and deal with years of dust accumulation.
The soft brush surface is made of flannel and can penetrate into every gap of the screen window mesh, also can use as a lint brush, to remove dust and hair from clothes, sofas, rugs beds etc.
Easy installation: the cleaning brush can be installed only by inserting four handles, and is equipped with a detachable extension handle, which can be used according to the actual length. The head is equipped with a small brush, which can be used to clean narrow spaces such as gaps. The tail is equipped with a long and small brush, which can be used to scrub the large brush without washing with water, saving cleaning time.
Widely used: the multi-function screen brush can be used in homes and cars. At home, you can clean screen windows, sofas, seats, desktops, ceramic tiles, etc. The brush can be used to clean windows, seats, etc. Brushes can meet the basic needs of car and indoor cleaning
Product information:

Material: Plastic
Color: 1 hair removal brush
Style: Modern and minimalist
Size: 45 * 18cm

Packing list:
Bristler*1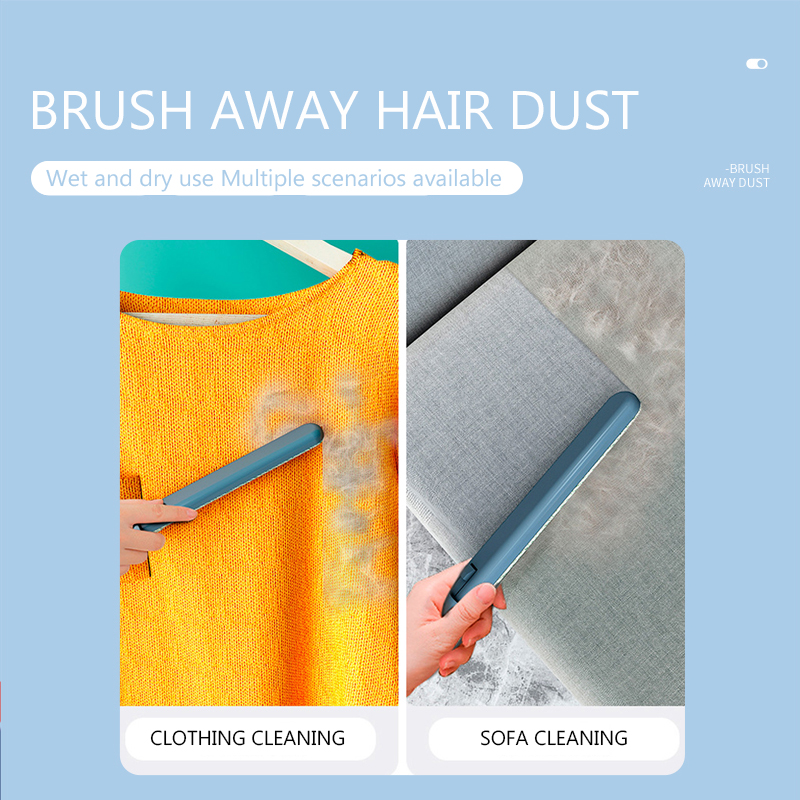 Product Description
Overview:
1. High-quality powerful scrubber brush is of high efficiency to remove dust, dirt, charred traces, etc.
2. Automatic brush helps to save time and energy. Just push one button and hold the brush body, and then a clean place appears.
3. Humanity designed 3 interchange brush heads that effectively clean out the dirty dead corners, suitable for different objects.
4. The hand-held design and cordless operation make it easy to work even in tight corners. It's easy to grip.
5. Handy power scrubber for cleaning tub, table, washing basin, kitchen sink, toilet, window glass, and so on.

Product information :
Function: cleaning brush
Material: Plastic
Color: [double brush head] [high power 1200mA] [rechargeable] third gear pink, [double brush head] [high power 1200mA] third gear green, [double brush head] [high power 1200mA] third gear white, [three-headed brush] scouring pad brush+brush+sponge brush
Charging method: USB charging
Gear adjustment: 3rd gear adjustment
Product features: various brush heads are clean and labor-saving

Size Information:
Product size 224*119mm

Packing List:

Cleaning brush *1+ Brush head *2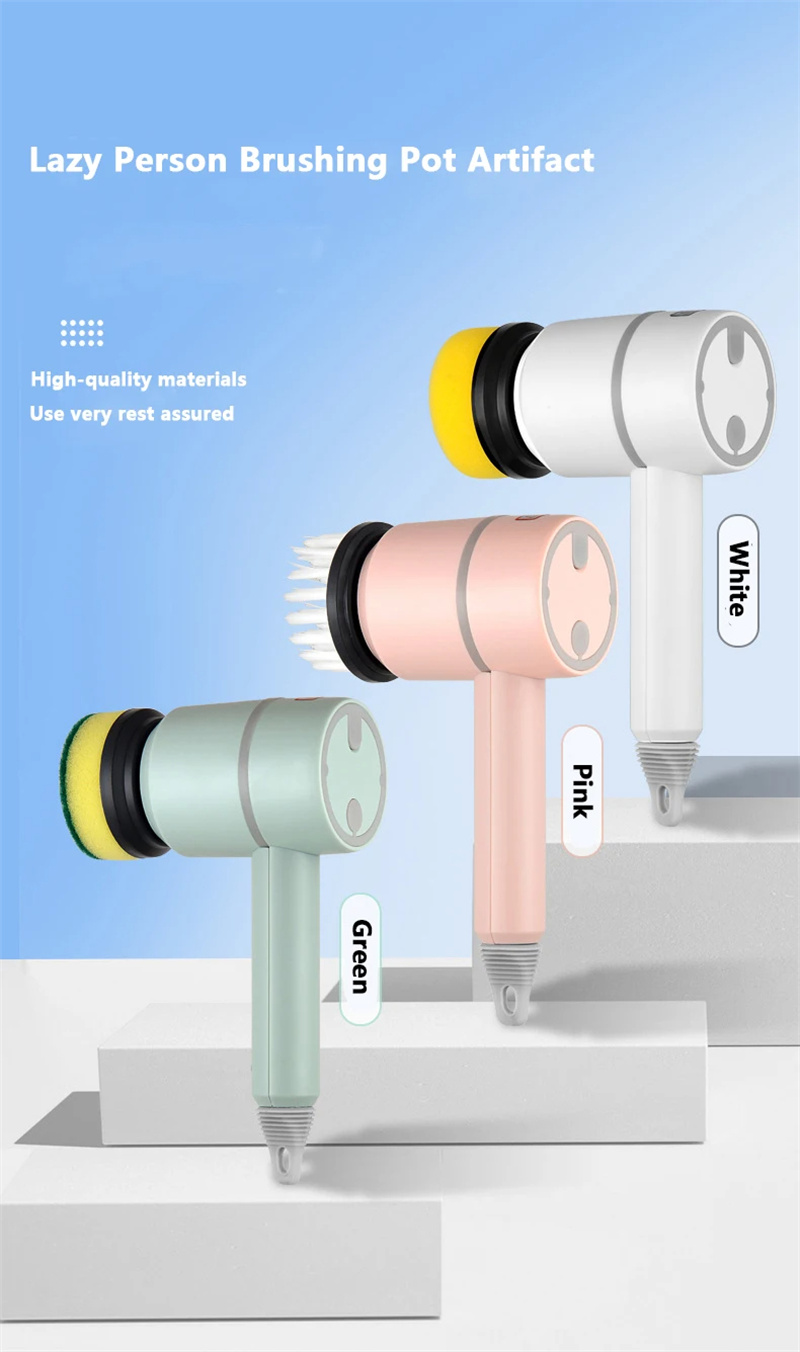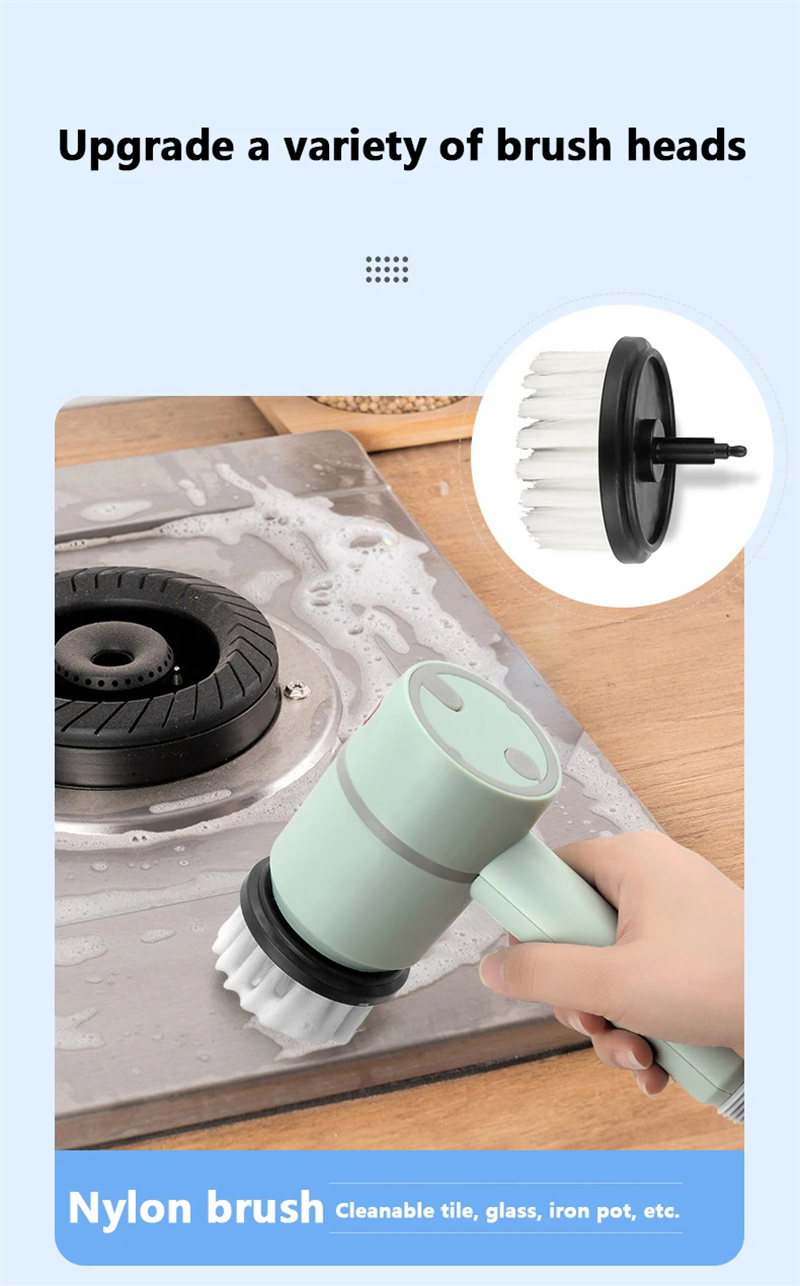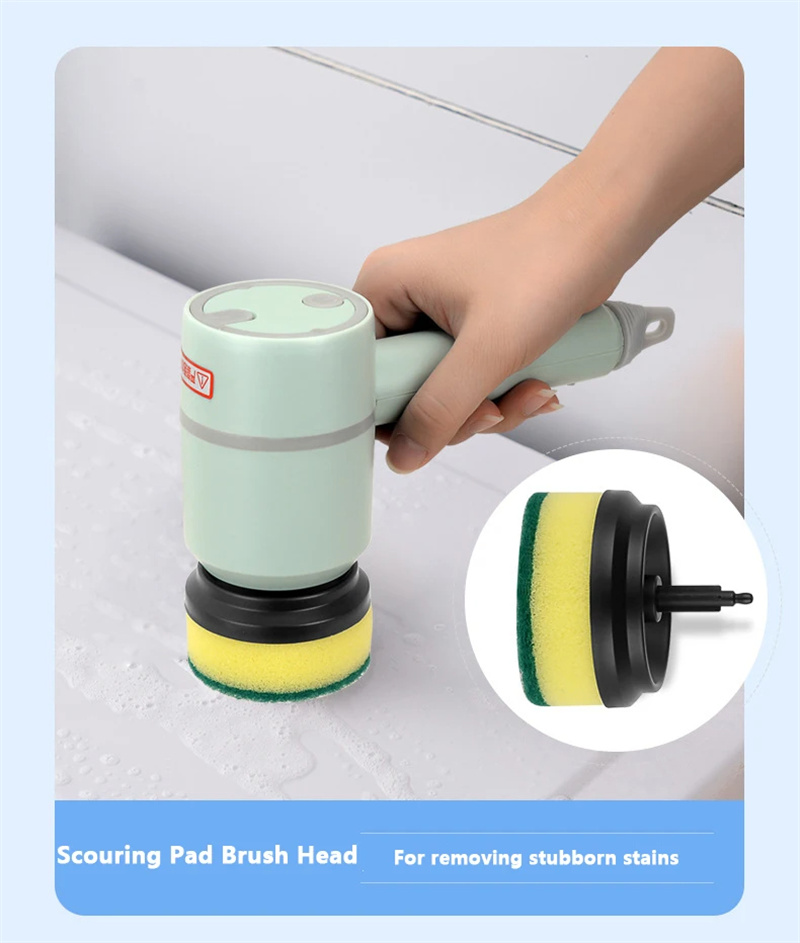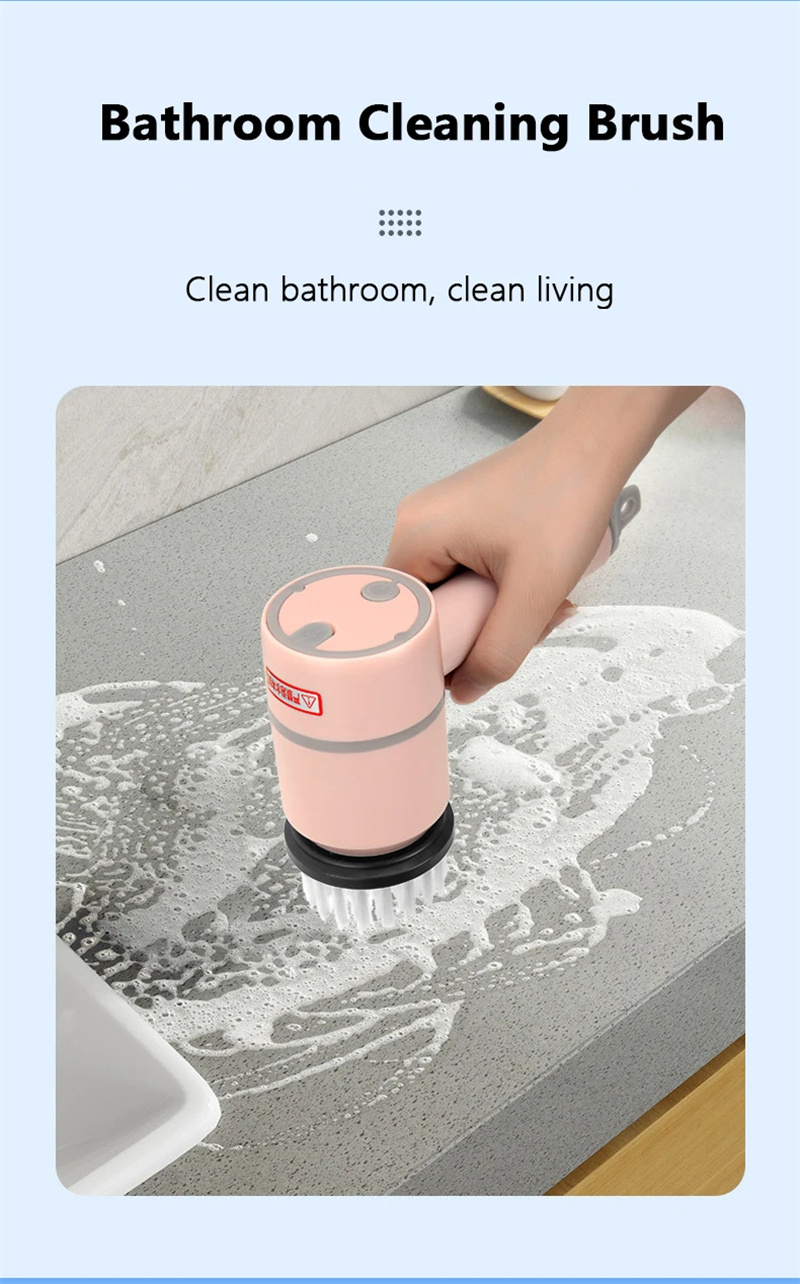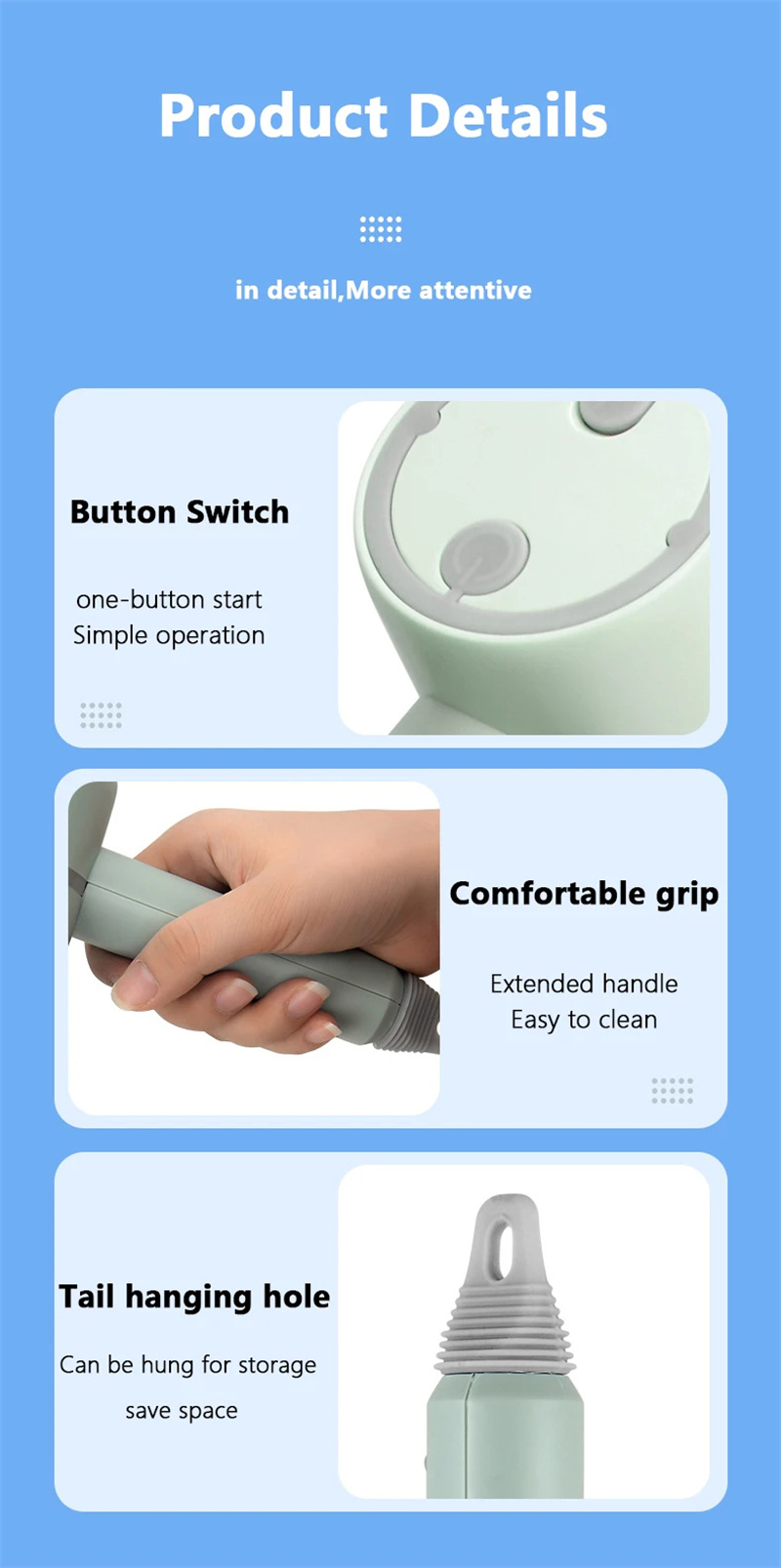 Product Description
The Headset are designed to help people not only save money but have a pair of super high-quality headphones at the same time. 

Long Lasting Battery Life
Star pods last 6-8 hours on a single charge, and fully charge in just under 60 minutes!
Noise Canceling 
Built-in padding technology makes star pods noise canceling, increasing the quality of your music. 
High-fidelity audio
The apple-designed dynamic driver provides incredible high-fidelity audio
Powerful dual-neodymium ring magnet design delivers ultra-low distortion so you can hear all the detail in your music
Features a custom high dynamic range amplifier
Powerful computational audio
With an Apple-designed H1 headphone chip in each ear cup, a custom acoustic design, and advanced software, AirPods Max uses computational audio to create a breakthrough listening experience
A total of 20 audio cores enable Adaptive EQ, Active Noise Cancellation, Transparency mode, and spatial audio with dynamic head tracking
Adaptive EQ tunes low- and mid-range frequencies to each cushion seal for a consistent listening experience
Industry-leading Active Noise Cancellation
Eight microphones enable industry-leading Active Noise Cancellation so you can block out the world around you
Automatically adapts to the way your headphones fit for truly immersive sound
Continuously adjusts 200 times per second for real-time noise cancellation—so you can focus on your music, podcasts, and calls
In Transparency mode, hear your surroundings without having to pause music or reduce volume, so you can stay aware of traffic, hear announcements, and talk with friends
Spatial audio with dynamic head tracking
Spatial audio provides a theater-like sound experience that surrounds you for your favorite movies and TV shows
Accelerometers and gyroscopes in both AirPods Max and iPad or iPhone constantly track and compare motion to anchor sound to the device you're watching—so an actor's voice is always fixed to the actor, even if you move your head
The headband frame is made from stainless and spring steel for strength and flexibility, with telescoping arms to fit a wide variety of head shapes and sizes
The Knit mesh canopy across the headband frame distributes weight to reduce pressure on your head
Ear cups pivot and rotate independently for a consistent fit and seal all day, then lie flat for storage
Acoustically engineered memory foam ear cushions, covered with a breathable knit mesh fabric, form a gentle but effective seal around your ears
Product Description
Features:
Multi-Angle Adjustment: 360-degree rotation phone holder, including 360-degree front up and down rotation, 90-degree vertical and horizontal rotation, and 180-degree tilt. Switch between horizontal and vertical screens. Provide you with the best viewing angle, look directly on the road, drive safely, and are not limited by the viewing angle.
Easy Installation: The car phone holder can be used on the car dashboard, sun visor, and rearview mirror. A holder has multiple purposes, it is more convenient and meets more needs in the car.
Sturdy and Improved: Made of non-slip soft silicone pad and curved base. The phone holder can be firmly attached to the car dashboard or curved surface, and the anti-slip silicone pad prevents the car from being scratched. The base of the spring buckle is strong and does not move.
Wide Compatibility: The car phone holder is suitable for mobile phones from 3 to 7 inches, compatible with most smartphones. The anti-slip mobile phone pad and the four anti-slip chucks firmly fix the mobile phone.
Product Description
Anti-Theft Portable Door Stop Alarm protects you and your belongings against any unwanted visitors or intruders in the first place with a smart disguise as a door stopper!
Serving as both door stopper and door stop alarm, this device is able to produce a loud shrill with 120db – loud enough to scare all burglars & intruders away and alert you at the same time, all thanks to the smart movement sensor.
You can adjust the sensitivity with 3 levels to fit different occasions e.g. home, hotel, office, and more. Crafted in stainless steel with an anti-skid base, it's widely applicable and durable.
FEATURES:
Dual Functions – Acts as both door stopper + door stop alarm
Maximum Security – 120db alarm with adjustable sensitivities
High Quality – Durable stainless steel with an anti-skid base
Easy Installation – Just place the alarm behind any door and remove it anytime
Portable – Mini & lightweight, you can stay safe even in hotels or b&bs
Widely Applicable – Perfect for home, dormitory, office, hotel, etc.
Versatile – Ideal for both doors & windows
SPECIFICATIONS:
Equipment: access control alarm
Function: 3 sensitivity level
Size: 14cm x 4.5cm x 4.0cm/5.51 x 1.77 x 1.57"
Material: ABS + stainless stee

l
PACKAGE INCLUDES:
1x Anti-Theft Portable Door Stop Alarm
Product Description
Our humidifier simulates the effects of an actual volcano fire to add a warm aesthetic to your home, especially during the winter season!

Such a great gift for the holidays!
This fancy volcano humidifier will moisturize the air in your home and create a perfect atmosphere that's just to your liking. Perfect decoration item for your house and perfect for increasing humidity levels throughout your home. 
Features:
Perfect function: Our diffuser is made of high-quality PP material, after various tests, grinding, and professional process, with intelligent LDE light, combined with the effect of a flame humidifier to create a very real flame atmosphere, so that you can enjoy a healthy, calm, life every day.
Innovative integrated design: Integrated design allows you to pick up with one hand to prevent dropping, when your other hand is then on the phone or in another busy state, you can pick up the machine with one hand without dropping it.
Safety Design: This flame humidifier diffuser adds 300ml of water and a few drops of your favorite aroma, it can work continuously for 18 hours, if the water runs out in the middle it will automatically power off and stop working, which means we are safer during use.
Easy to carry, silent effect: The aromatherapy diffuser has a super silent effect of 25db, which will not disturb any of your studies, work or sleep. Compact and space-saving, you can easily put it on your desk or in your carry-on luggage when you go out.
How to use:
Short press the left button for the first time to turn on Volcano Mode. Short press the left button second time to turn on the

 

Flame Mode. Short press the left button a third time to turn off all functions.
Short press the middle button to turn on the light breathing mode, short press the middle button again to turn off the light.
Short press the right button for the first time to turn on 2H shutdown timer. Short press the right button for the second time to turn on 8H shutdown timer. Short press the right button for the third time to enter the long spray ON mode.
In any mode, the unit will shutdown when there is no water.
Specifications:
Function: Ultrasonic
Applicable object: household
Shape: Columnar
Noise: below 36dB
Water shortage and power failure protection: support
Operation mode: mechanical
Number of fog outlets: 3
Rated voltage: 24V
Rated power: 10W
Colour: Black
Specifications: American, British, European, Australian
Liner material: plastic
Standard capacity: 350ml
Shell process: spraying
Capacity: 350ml
Liner material: ABS/PP/silicone/electronic components
Fragrance type: mixed fragrance
Material: Incense
Packing list:
Product Description
Decompression Design] Jellyfish Humidifier Night Light has a space-saving appearance design, which can spit out jellyfish-shaped steam with romantic sound effects. Seeing the jellyfish rising slowly, can relieve stress and release anxiety. The air humidifier can moisturize the air, hydrate your skin, eliminate dryness, breathe easily and get more restful sleep. Humidifiers for bedroom, lounge room, office, yoga, and spa.
Auto Shut Off and Timer Mode] Device water shortage, the Jellyfish Humidifier Night Light automatically shut off. It also comes with timing mode by default, the device will automatically turn off within the specified time (2H/4H/6H) No worry about damaging the device itself or causing danger to you.
Easy to Clean and Fill and Easy to Use] fill design with detachable components makes the vaporizer much easier to clean and refill. 250 ML large-capacity water tank to keep the room continuously moist. The top-fill humidifier also works as an essential oil diffuser.
Specifications:
Function: Ambient light
Operation mode: mechanical
Power supply: USB
Shape: round
Noise: below 36dB
Rated voltage: 5 (V)
Color: 851 Jellyfish Humidifier-White, 851 Jellyfish Humidifier-Pink, 851 Jellyfish Humidifier-Blue
Product specification: 250ML
Shell process: ABS
Packing List:
Product Description
Now you can make fresh juices and smoothies away from home!
Introducing the Portable Electric Blender. This portable blender is the best product in its class, perfect for anyone who is tired of using traditional bulky blenders and wants something easier to take wherever you are and aesthetically pleasing to look at.
Up to 15 blends on a single charge
Ability to blend frozen fruit and ice
Durable, drop-resistant body
HEALTHY AND PORTABLE Juicer SOLUTION:
Take your Mini Blender wherever you go without compromising space or style. Our bottles are built to be taken anywhere without hassle.
WIRELESS CHARGING:
Ditch the cords and charge your Mini Blender wirelessly giving you up to 15 uses on a single charge.

SLIM AND SLEEK DESIGN:
Our bottles are designed to remain portable without sacrificing minimalist, timeless design.
CLEVER BLEND TECHNOLOGY:
The 4-blade Fresh Juice Extractor portable smoothie blender is more powerful than the standard 2-mini blades, blending fruit and vegetables into excellent smoothies while leaving no fruit or ice behind
KEEP EVERYTHING CONVENIENT:
With this small blender, transportation is made easy! Its sleek and light design helps you to get anywhere with freshly made juice. 

CLEANING IS A BREEZE:
Simply add a few drops of water and blend with this handy blender. Don't bother cleaning up the mess when you're done. It is completely watertight.

Specification:
Product capacity: 350ml

Color: pink, white
Product weight: 490g
Product model:214
Product size: 82mm* 82mm 218mm
Input: DC5V-1A
Battery voltage: 7.4V-1400mAh
Rated power: 50W
Packing list: