6 products
Product Description
Smart Alarm Clock Bluetooth Speaker
Multifunctional portable smart digital alarm clock, excellent overall performance: cool style, small size, outstanding sound quality, brilliant lights, sensitive sensing, and long-lasting battery life. It can also be a replacement for Bluetooth speakers and radios. It is a good gift for girls and boys.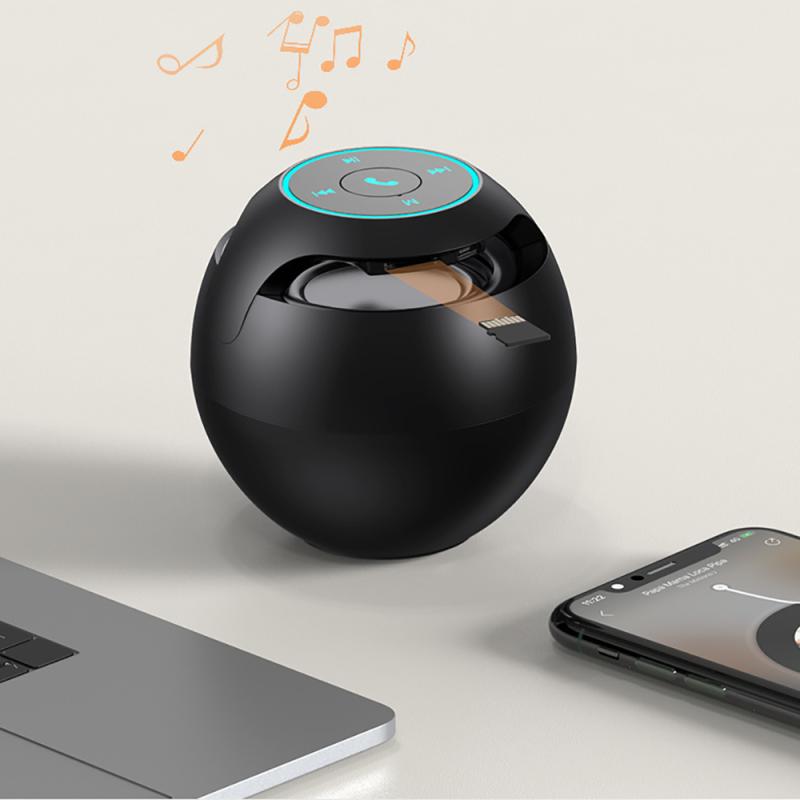 Never Say No To Delay
Two-alarm clocks can be set to better wake you up and remind you of important moments and days. One for you and one for your family. It allows you to set the weekday mode, which only beeps Monday through Friday, fully guaranteeing your weekend off time
Easily Wake Up The Led Display In The Dark

The built-in sensitive sensor can sense the movement of objects within 5 meters and the changes in ambient light. In the dark night, you can wake up the LED display with a light swipe of the hand, determine the position of the alarm clock, and easily see the time at night.
Improve Sleep Quality

Humanized ringing mode, ring volume from low to high, from soft to rapid. It won't be loud at first, and you won't be woken up by a sudden loud bell, which improves your sleep quality and allows you to "wake up naturally" every day.
Easy To Use For Kids And Seniors

Children's daily life and learning partners, help children develop a good habit of managing time. With absolute concise and clear indicators, basic curved digital clocks are simple and easy to operate. Great gift for children families, kids, seniors, and teens.
Refuse To Be Monotonous And Boring

An alarm clock is also a Bluetooth speaker, cool spherical design, exquisite and small (3.5"x3.5"x3.5"), excellent sound quality, colorful lights, sensitive sensing, and long-lasting battery life. Make it suitable as a good decoration for the bedroom and bathroom.
Specifications:
Support Bluetooth version: 5.0
Output power: 5W
Battery capacity: 2000mAh
Charging time: about 2 hours
Playtime: about 6-8 hours
Color: Pink, Black, white
Product functions: support Bluetooth connection, hands-free calls, TF card playback, FM Radio 
Product Description
Make any surface a loudspeaker
The innovative speaker turns anything hollow into a customized speaker!
Audio, meet innovation. The next-gen speaker uses bone-conduction technology to protect your music from almost any surface.
Transforms anything into a speaker!
Hummingbird Speaker is the world's smallest and most versatile bone conduction speaker that allows you to have a different but always spectacular experience of sound anywhere, in any context, place, or time!
Blast Music whenever, wherever
Hummingbird Speaker allows you to listen to music, follow podcasts, have individual phone conversations or conference calls, and even enjoy an amazing experience of the sound of your games, videos or films played on your device.
it's Portable & Powerful
The Hummingbird Speaker might be as small as a quarter but it delivers a powerful sound profile. It's 10x louder than an iPhone speaker and produces a breathtaking stereo sound and deep bass with its internal speakers.
Specifications:
Cabinet Material: Metal

Audio Crossover: Two-Way

Built-in Microphone: No

Channels: 2 (2.0)

Feature: None

Intelligent Personal Assistant: NONE

Output Power: 3W
Product Description
Waterproof Bluetooth Speaker
A waterproof Bluetooth Speaker will revolutionize how you listen to music in the shower. Water-resistant, hands-free, portable, and enabled with Bluetooth 3.0, it has easy-to-use buttons for controlling volume, skipping songs, and playing/pausing.
Listen To Music In Your Shower!
Don't let the water stop you from enjoying your favorite music. Sing like no one is watching! The shower speaker has a suction cup, so it's easy to attach and remove on any surface. 
Features:
Lets you take hands-free calls with its built-in microphone
Connect via Bluetooth with your smartphone, tablet, laptop, or desktop computer and play your favorite songs or even listen to podcasts
The clear and crisp all-around sound you can take anywhere with you
Plays continuously for up to 6 hours
IPX6 grade waterproof with a Bluetooth distance of up to 10 meters


Easy To Use
Simply connect as a Bluetooth device to your phone, computer, or any Bluetooth-enabled device.


Specifications:
Material: Premium Plastic
Weight: 160g
Power: 3.7V 400mAh Lithium Rechargeable Battery (takes 3.5 hours to charge and lasts for at least 6 hours)
Size: 8.1 x 8.1 x 5.5cm (3.18 x 2.16in)
Product Description
Small in size but large in capacity. Let you enjoy music without being uninterrupted from day to night. No matter where you go, your speaker will always be your partner. And there are different colors for you to choose from. Stronger anti-interference ability and more stable signal without any delay.

This Wireless Speaker features low power consumption, high power, and strong and clear sound. Stronger anti-interference ability and more stable signal without any delay.
Stereo Sound Wireless Speaker in a mini size 118*78*38mm, compact and lightweight. The portable speaker has a built-in 300mAh/3.7v high-capacity battery for a long standby time.
Portable Speaker let you experience powerful sound, enhanced bass, and vocal clarity.

The stereo sound wireless speaker supports Wireless/ USB/ TF Card /FM connection.
Let you enjoy music without being uninterrupted from day to night. No matter where you go, the speaker will always be your partner. 

Product Description
Led Flame Speakers
Lightweight, yet retro-cool design provides the perfect soundtrack for the cool bar table, park, yard, or anywhere else at home, travel, or away.
Unique design, classical without loss of modernity, combined with soft music, make you feel the romantic atmosphere when you are dating at the beach, hotel,  peak, and anywhere you like.
Led Flame Atmosphere Speaker Lamp
It has 96 LEDs, other flame speakers only 60 LEDs, 96 LEDs show more real flames light. each LED flickers warm yellow lights, forming a stunning flame, mimicking extremely realistic & natural dancing flames, combined with an audio function, to create a romantic atmosphere for you
Portable Wireless Speaker
Connect it with your smartphone or tablet via Bluetooth, compatible with all Bluetooth compatible devices, with a 5W high-power speaker with excellent stereo sound and powerful bass, make you enjoy the wonderful music
Huge Stereo Sound 
Enjoy clear audio with impressive volume powered by Five-watt drivers. Hear the soaring highs and deep lows of all your favorite tracks
An Ideal Gift For Any Occasion
Perfect for girl/boyfriend, perfect for students in dorms, partygoers at celebrations, families at special events, and children for relaxing. Especially ideal as a holiday GIFT, birthday present, housewarming gift, or simply as a personal treat.  
Specifications:
Power Supply: 5V / 1A
Speaker Output Power: 5W
Bluetooth Version: V4.1
Charging Time: 4--5 hours 
Music Play Time: About 10 hours
Flame Lamp Play Time: 20--24 hours
Product Description
A perfect speaker for the on-the-go. Share music while riding your bike with the handlebar bracket. Stream music using BT 5.0 or plug a MicroSD card in when you don't want to bring a phone.  IPX7 waterproof rating and robust casing mean this can travel with you almost anywhere.
Features:
IPX7 Waterproof and Dustproof: IPX7 waterproof level is much stronger than IPX5 waterproof. It is very suitable for outdoor activities such as cycling, running, and hiking.
Long Battery Life: The speaker has a battery capacity of 1200mah, charging for 1 hour, and listening to music for 8 hours (volume 60%).
360° surround sound effect: 360° three-dimensional surround sound, the non-destructive sound quality is amazing, and the sound is clear as if you are on the scene.
Sturdy and Durable: The anti-collision steel mesh is reinforced, which is stronger and more durable. It allows passengers to enjoy music during a bumpy ride without worrying about the speaker falling off.
Easy to Carry: It has a detachable bike fixing frame and hook, so you can carry it on mountains, muddy terrain, etc. without fear.
Specifications:
Battery: lithium battery (3.7V 750MA)
Power supply mode: USB micro 5V/1A
Output power: 5W
Interface type: USB Mirco, 3.5mm audio input, TF card reader
Connection method: Bluetooth, AUX, TF card
Bluetooth specification: BT5.0
Play format: MP3, WAV
Waterproof rating: IPX7
Signal-to-noise ratio: ≧85dB
Number of speakers: 1*3R5W speaker
Frequency response range: 50HZ-20KHZ
Speaker adjustment method: button
Music playback time: about 8 hours
Expansion Storage: maximum support 32GB memory card
Effective distance: effective distance from mobile phone ≤ 15 meters
Support mode: SD card
Shell material: ABS, TPU
Speaker size (excluding accessories): 8.25*8.25*4.2CM
Weight (without packaging box): 0.23KG
Type: Bluetooth speakers, mini speakers, portable speakers, car speakers
Functions: card, remote control, IPX7 waterproof, voice prompt, call function, 3.5mm audio input
Packing List:
1*Bluetooth Speaker
1*Instructions (Chinese and English Folding Pages)
1*3.5mm Audio Cable
1*USB Charging Cable